Mr. Duggan's 4th Grade Class at The Old Steeple. The class made ornaments and decorated The Old Steeple Christmas tree last week. Ferndale Elementary school students decorating the trees is a long standing tradition of the Christmas season.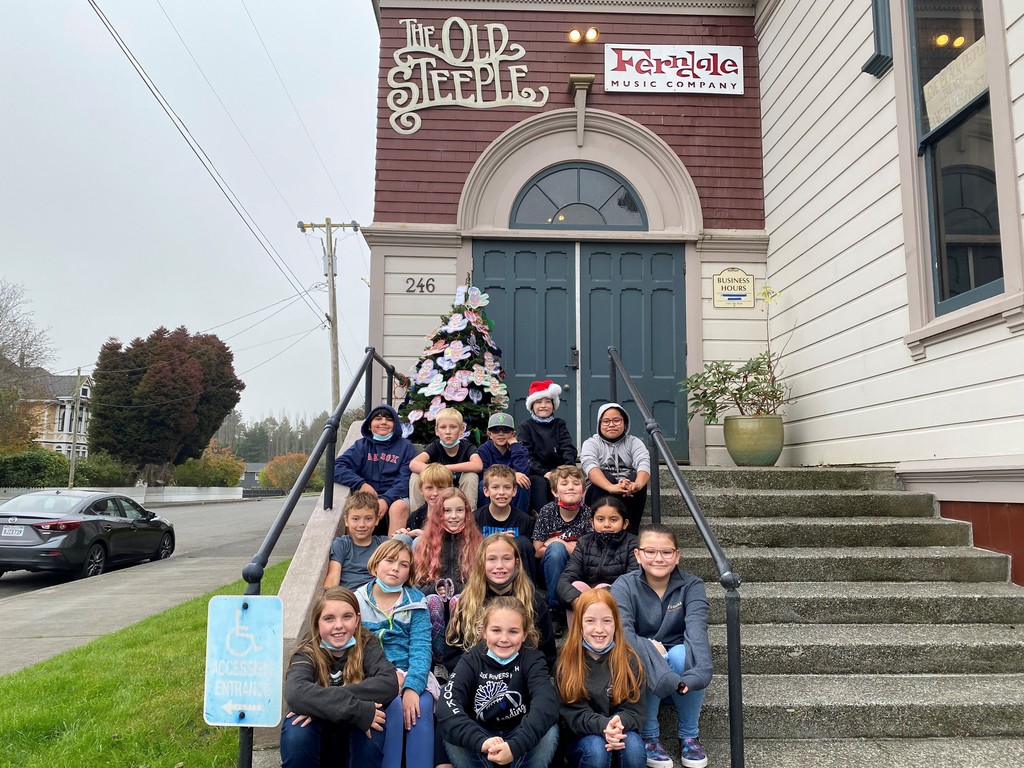 Please stop by the Wishing Tree this holiday season and leave a wish. Tree is at Town Hall and put up by Ferndale high school students ❤️(the tree will be up through New Years)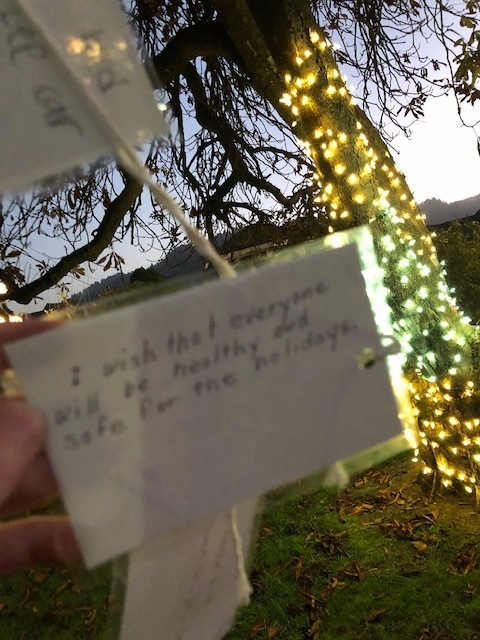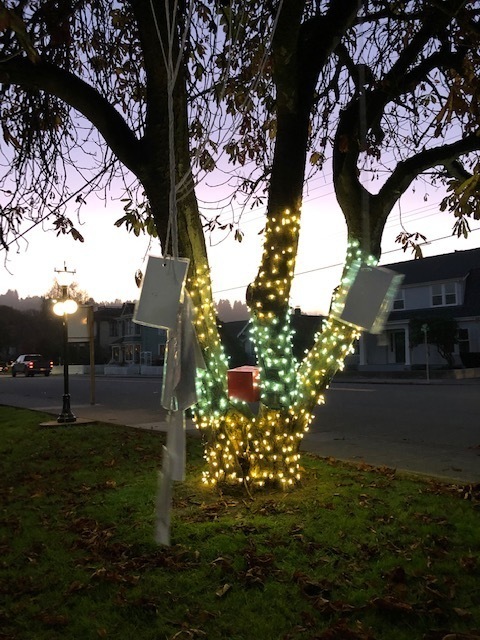 Ferndale Elementary School Site Council will be meeting on Tuesday, November 2nd at 6pm in the FES Jr. High Science room. This meeting is open to the public and we will be discussing and updating the FES safety plan. We will also be voting on new officers for the 2021-22 school year.

The staff at Ferndale Elementary were greeted with some friendly ghosts, and were "Booed" this morning in the most spooky way. Thank you to a group of parents that decorated the school grounds and left a bag of goodies for each staff member. Happy Halloween.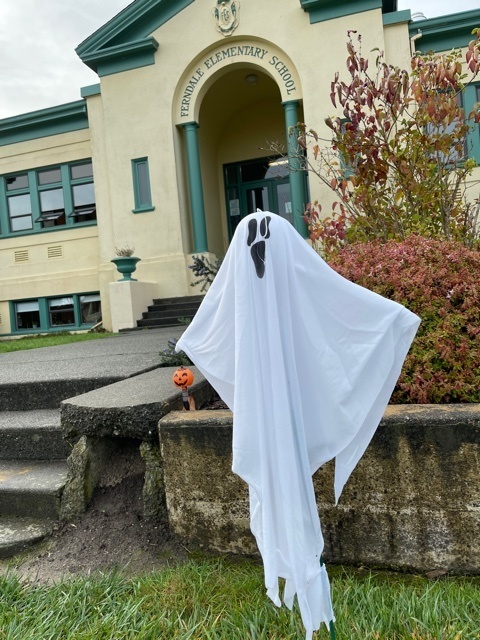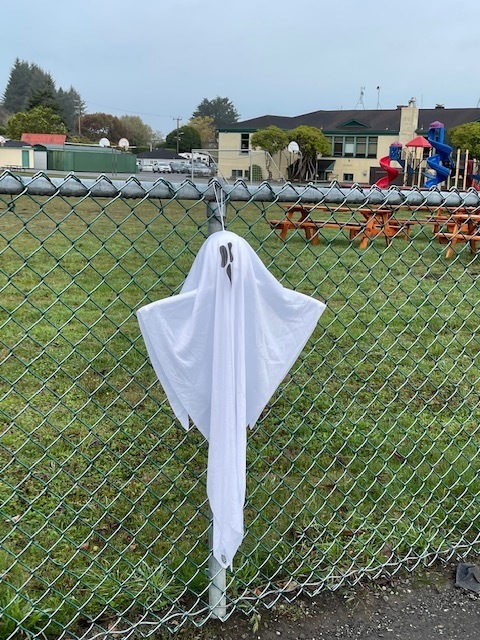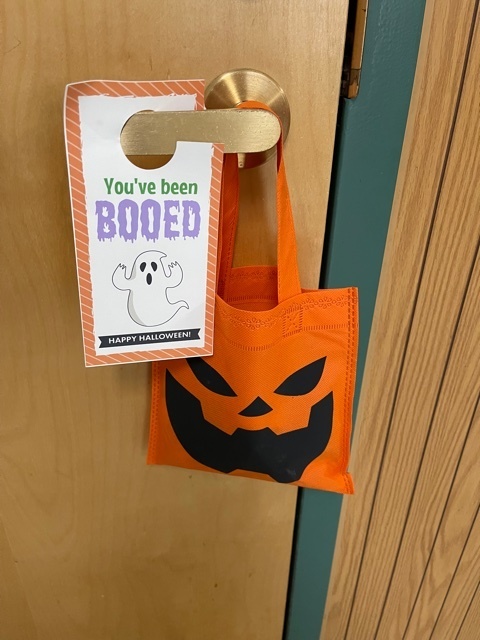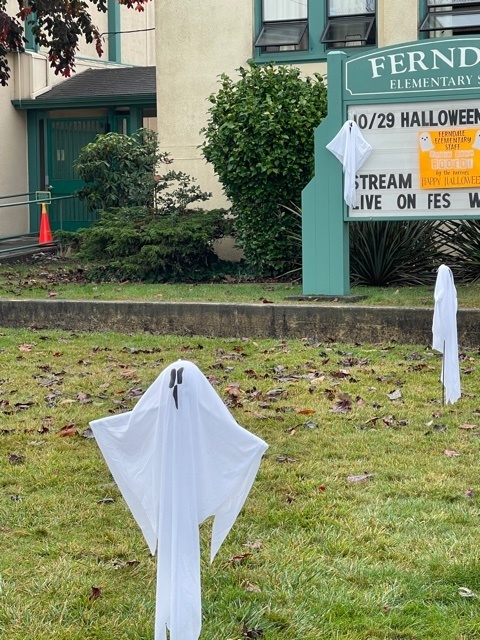 Ferndale Elementary School Site Council will be meeting on Tuesday, November 2nd at 6pm in the FES Jr. High Science room. This meeting is open to the public and we will be discussing and updating the FES safety plan.

Many of the classes are enjoying trips to the Pumpkin Patch. Here's a couple pictures of Mrs. Bushers 4th/5th students and Mrs. Currier's 2nd Grade class enjoying their field trips to Wild Rose Farm Pumpkin Patch in Ferndale.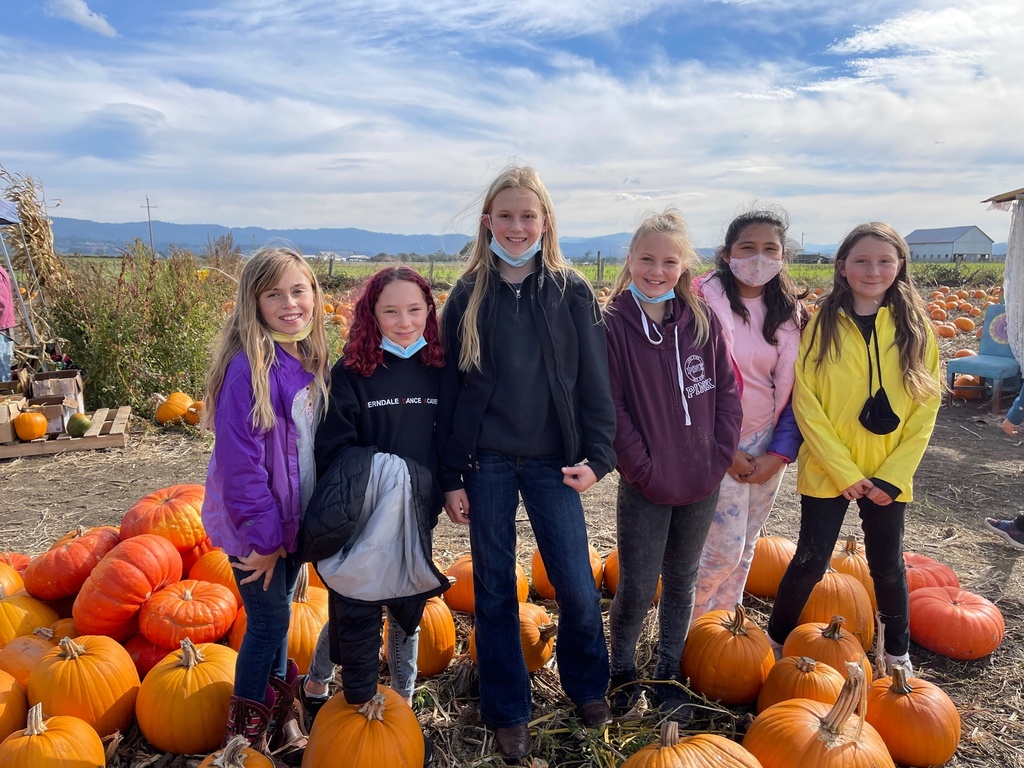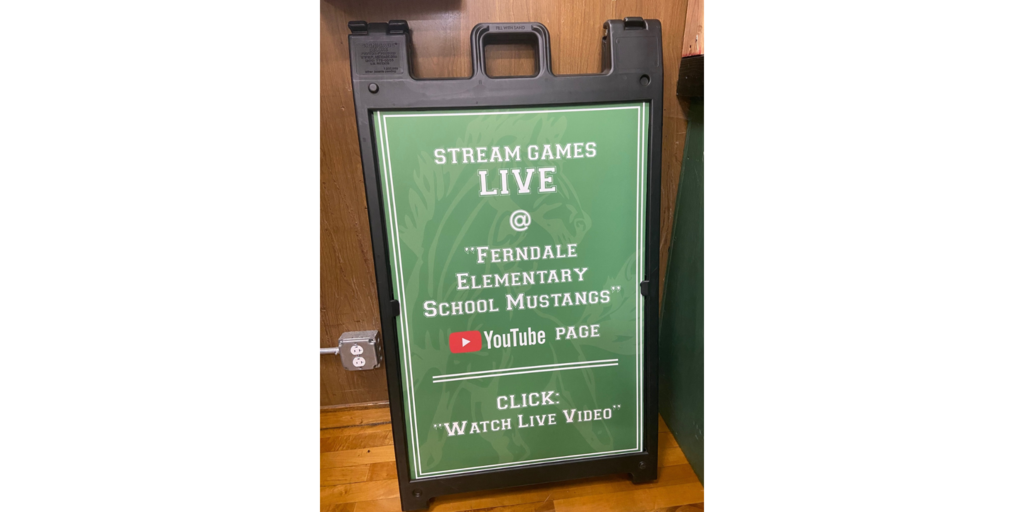 Good morning Ferndale Schools Family, As many of you know, the state and federal governments continue to place our schools and school personnel in an uncomfortable position of serving as regulatory enforcement agencies. Please know that it is not and has never been our intention to interfere with the personal values and beliefs of our families. Yet, we are held accountable to uphold the laws, policies, regulations and public orders that we are given as well as uphold school procedures and rules. We understand that many families are not in support of a state requirement that will add the Covid-19 vaccine to the list of those required for school enrollment. We also understand that many families are in support of the vaccine and a vaccine requirement. This issue has become quite divisive and we do not want this division to cause us to disrespect one another or the beliefs of others. Ferndale Unified School District is proud of how we always listen to one another and care for one another. We have had very respectful conversations on many divisive topics and issues. If you are going to participate in a protest, walk-out or boycott, please don't do so by disrupting learning at our schools. We have fought hard over the past year and a half to get students back to a regular routine of learning. Please also consider contacting your elected officials or protesting in a way that does not disrupt student learning. If your student is missing school for a protest, boycott or walk-out please be sure to have a parent/guardian notify the attendance office for absence verification as is our regular procedure. Verified absences do allow for students to make up their school work, but again we encourage you to find alternate, meaningful ways to be heard. Most importantly we need to listen to one another, respect one another and be kind. Take care, Beth Anderson Superintendent

Jr High Drive Thru Dinner Oct. 1st


Ferndale Elementary School Picture Day: Tuesday, September 21
https://lifetouch.com
Picture Day ID: EVTSMCVSH

Meet our new 2nd/3rd grade teacher, Mrs. Maxon: I have lived in Humboldt County for 17 years, I graduated from HSU with my BA in elementary education in 2008. My husband and I have 3 children that attend Ferndale Elementary School and we call Loleta home. I am so excited to be a part of the wonderful teaching staff here at Ferndale.

Welcome to our new TK-5 resource teacher, Josephine Finen. She grew up in the Sacramento area, and spent her childhood making frequent trips up to Humboldt County. This is her sixth year teaching, previously she taught TK-12 and TK-8 in Southern Humboldt.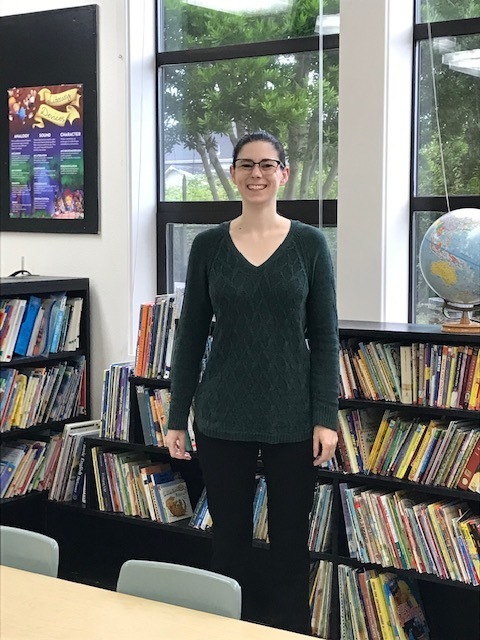 We're looking forward to seeing our students Monday morning. Monday is an early release time, 1:00pm.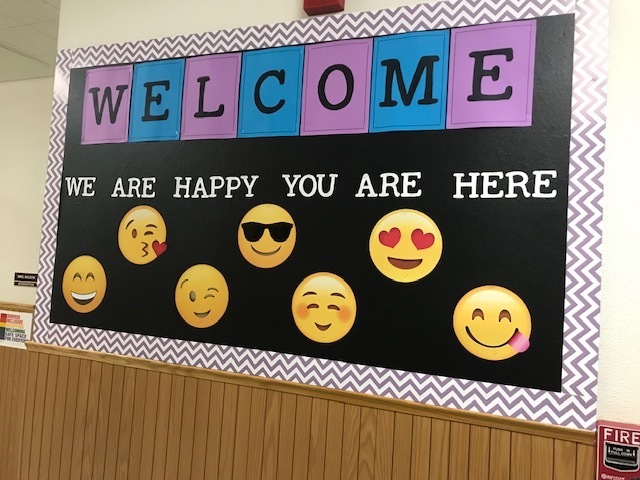 Best wishes to Mrs. Townsend and her family. She taught at Ferndale Elementary for the past 5 years, but won't be returning this year. Mrs. Townsend and her husband welcomed their baby Wade Goff last May and she's going to be busy taking care of him and enjoying time on the family ranch.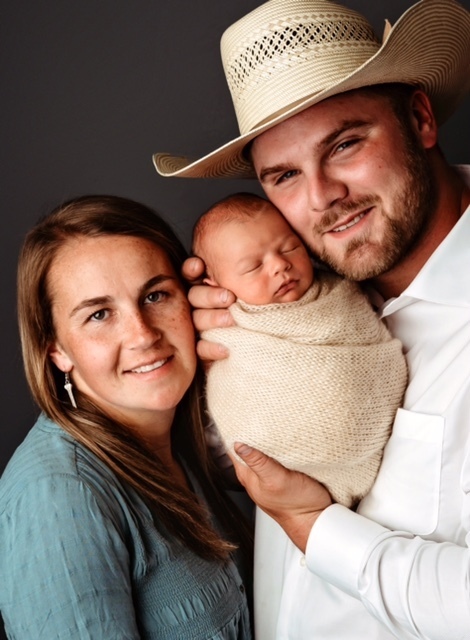 Wondering where Ms. Banke went? Not far. Our District Counselor was married last spring and is officially now Mrs. Bigham ! Her new email is:
ebigham@ferndalek12.org
Congratulations to Erin and Josh from their Ferndale Unified School family.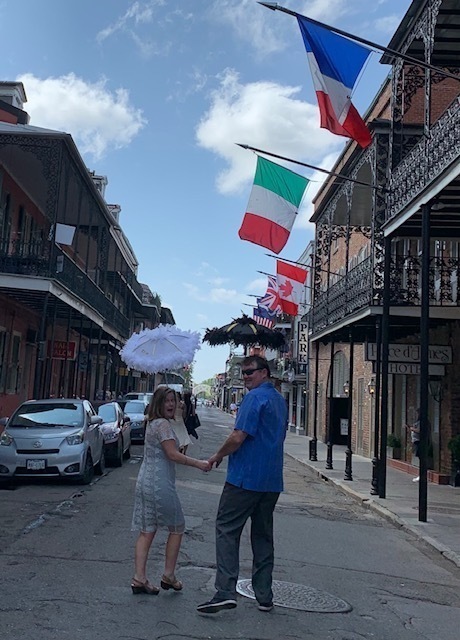 Positions available at Ferndale Elementary School 2021-2022: Special Circumstances Instructional Aide (SCIA) - Grades TK/K Resource Aide (Math) - Grades 5-8 English Language Development (ELD) - Grades K-8 Please contact Principal Landry at Ferndale Elementary School

Congratulations to Mrs. Fisk-Becker who retired in June after 27 years of teaching. We appreciate her dedication to Ferndale Elementary and wish her all the best in retirement.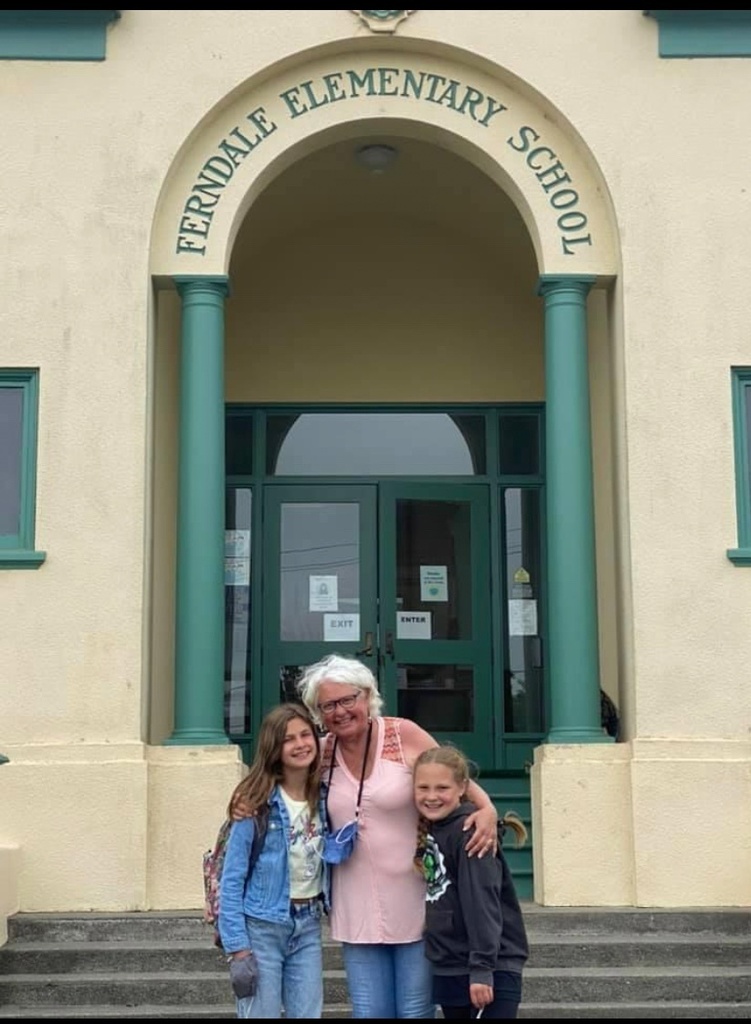 Are you getting ready for school? We are! Thank you Mrs. Brazil for updating the bulletin boards in the Primary Building.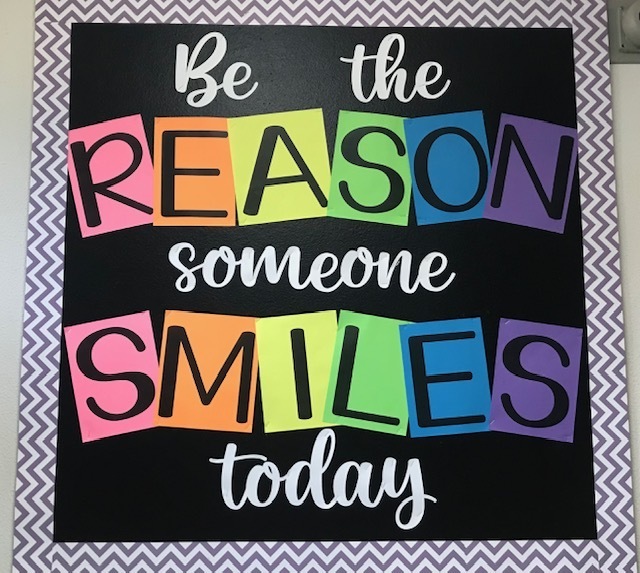 Parents and Students: All the 1st day paperwork has been mailed home, please return in it to the FES Gym on Thursday, August 26th from 12:00pm-6:00pm or Friday, August 27th 9:00am-12:00pm. Once an FES staff member has reviewed the packet, you will receive your child's assigned teacher for the 2021-2022 school year.