Día de Los Muertos, Tuesday, November 1, 2022- Students at Ferndale Elementary School learned about how Día de Los Muertos is a very different tradition from Halloween. Mrs. Rodriguez shared her cultural traditions with the class and students enjoyed Mexican hot chocolate and dead bread. Thank you Mrs. Rodriguez for sharing your culture and connecting your students learning with real-life experiences.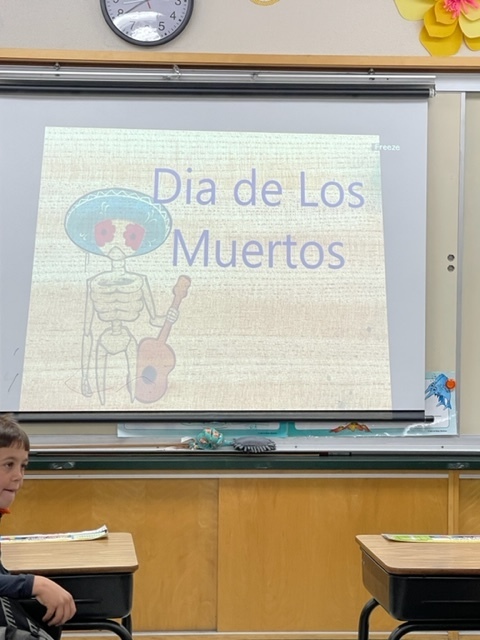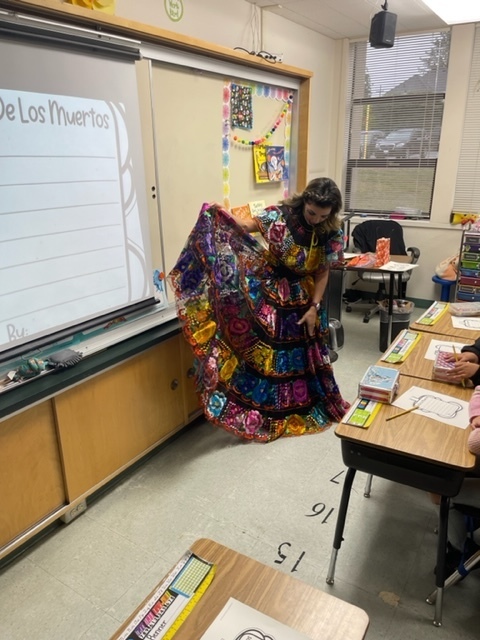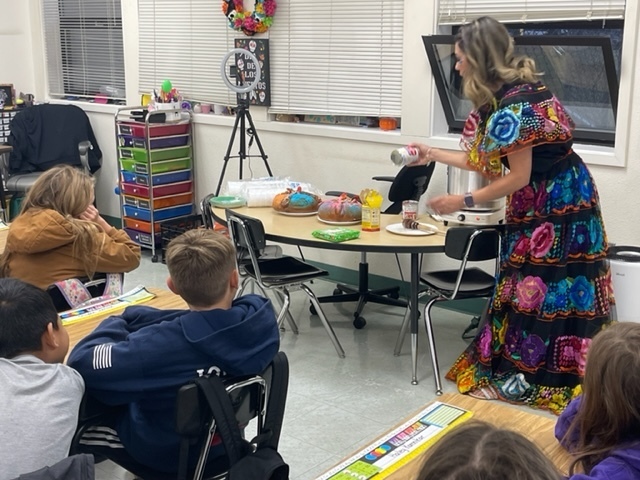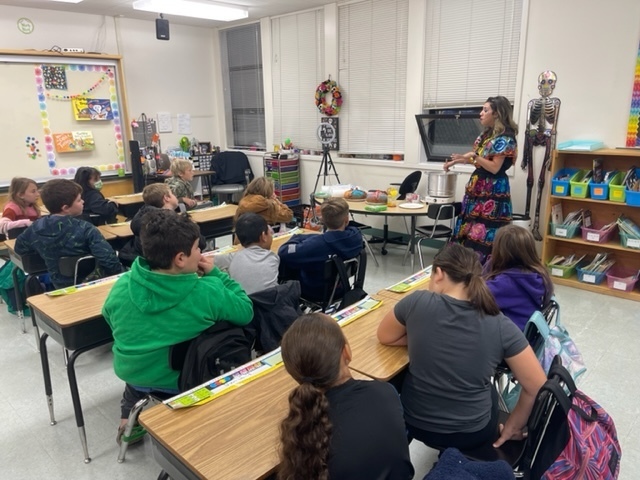 Author Judy Cox was at Ferndale Elementary School last Friday. She presented to grades 1st-5th. She was here as part of the Humboldt County Author's Festival. Thank you to Christina Ghidinelli for helping make this possible.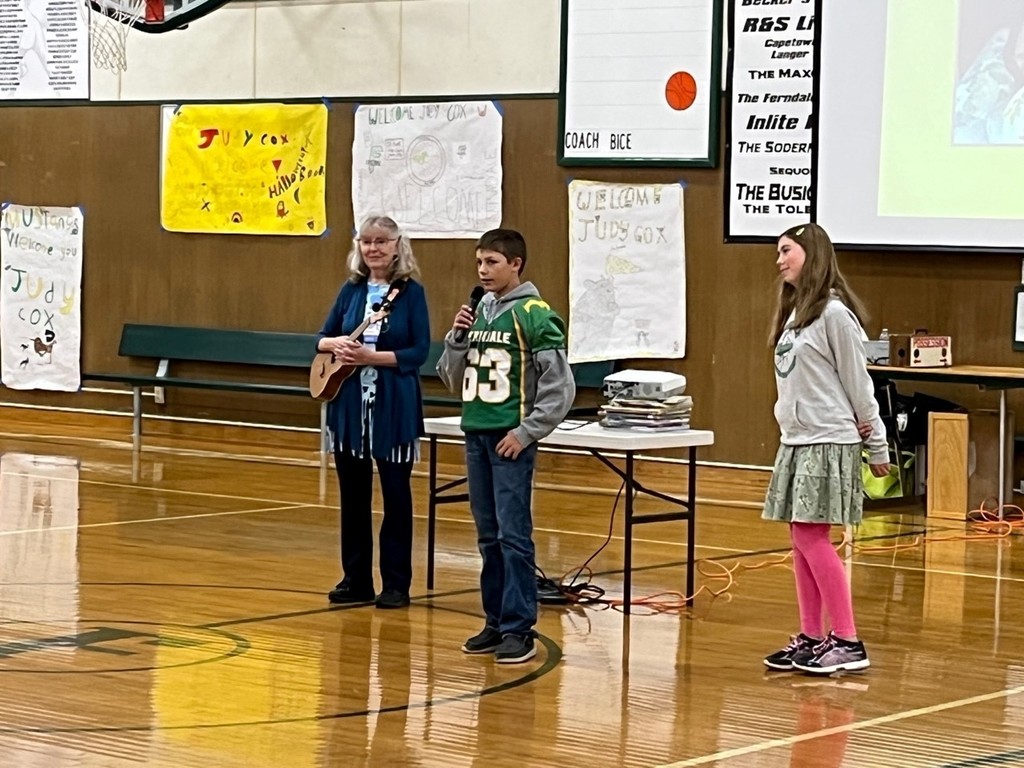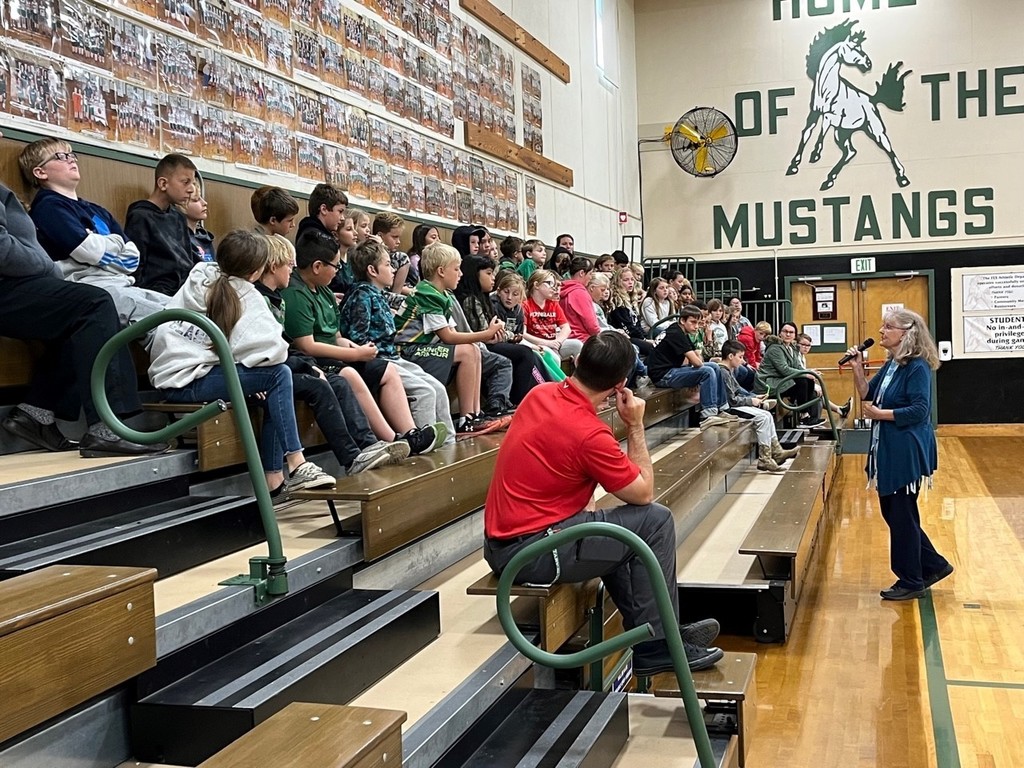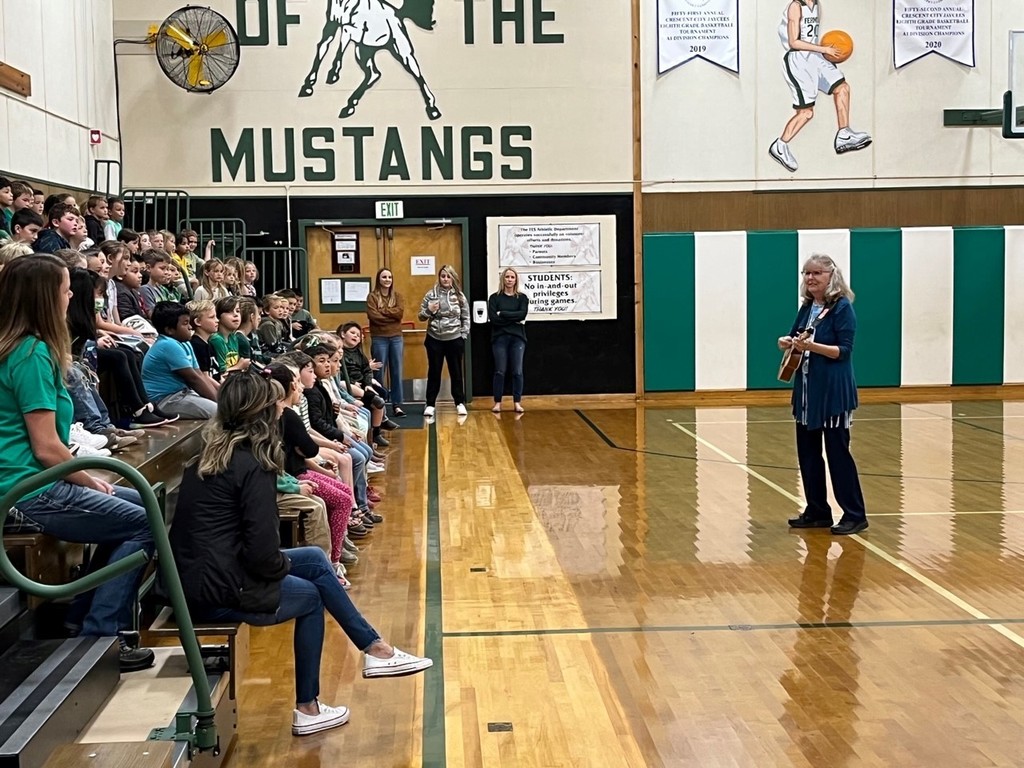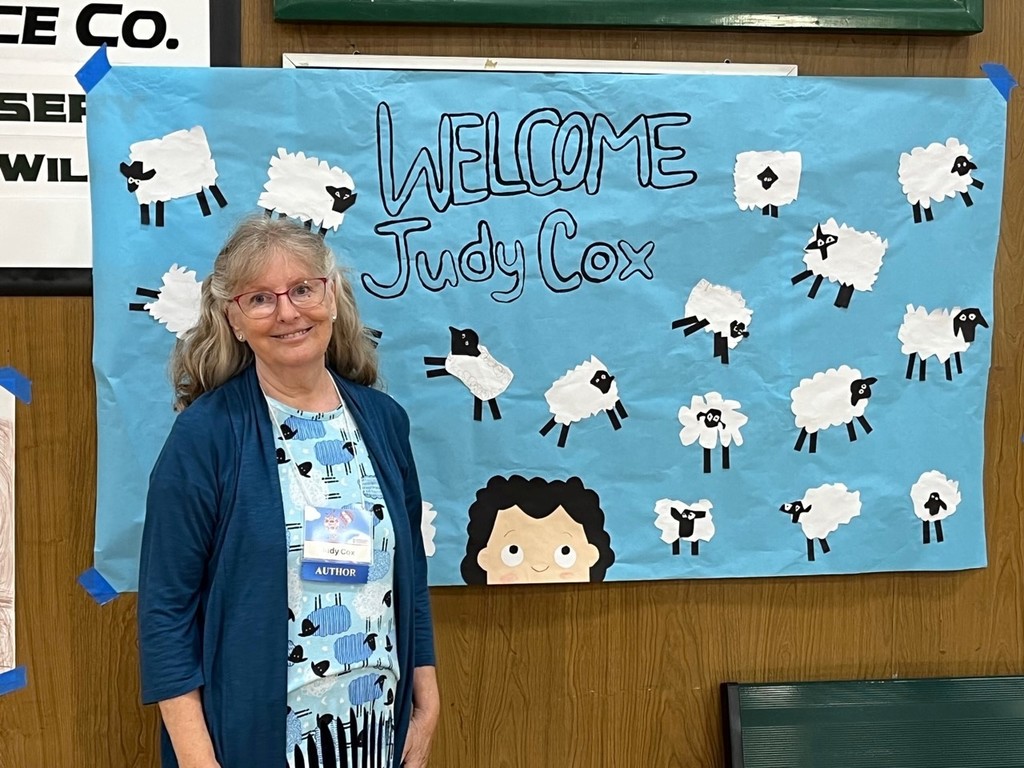 Character Assembly Continued: (4th-6th graders) who were recognized were Isle Griggs, Sean McManus, Weston Shaw, Emma Grant, Scout Anderson, Ethan Ghidinelli, Kennedy Cook, Dylan Jones, Jimena Valverde, Eli Albee, Zen Giacomini, Keeley Ryles-Baker, Andrea Velasco, Layne Avelar, Faye Weiss, Madison Hagemann, Ryker Renner.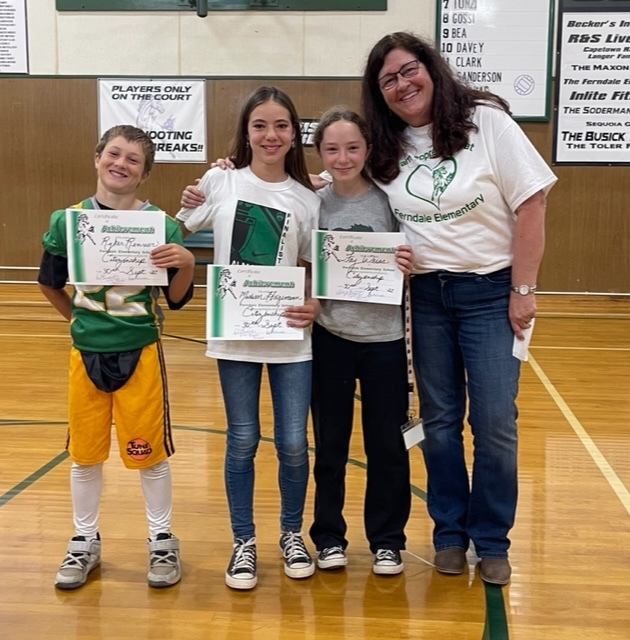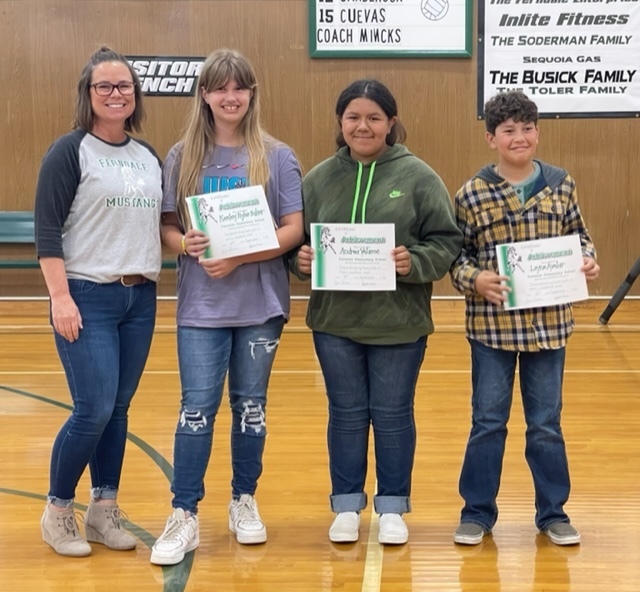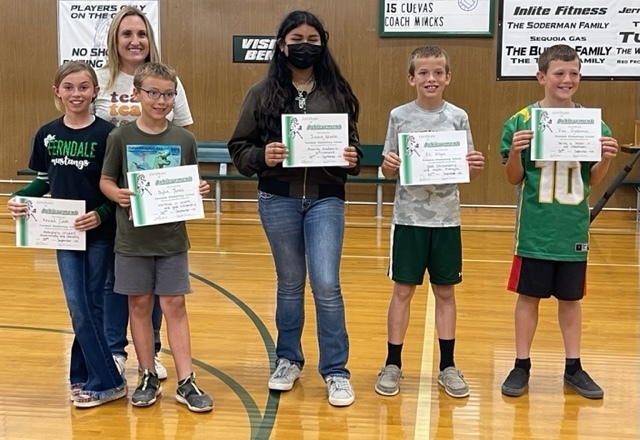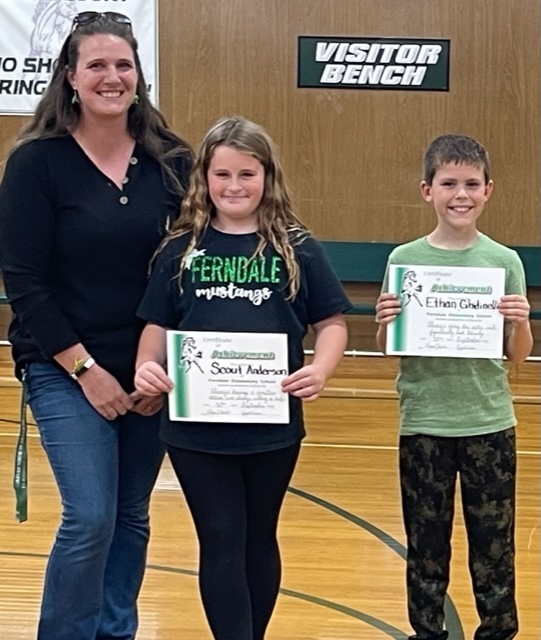 On September 30, 2022 Ferndale Elementary School Students in grades Kindergarten through 3rd grade celebrated their first Citizenship Assemblies in two years. Students were chosen for being Safe, Responsible, and Respectful. The FES staff have many rallies scheduled throughout the year and look forward to recognized your student at one of our upcoming rallies. Primary students (Kindergarten through 3rd grades) who were recognized were Kenai Dominick, Laney Titus, Violet Tomlin, Hunter Sutton, Jacob Anderson, Hunter McCanless, Cruz McMahon, Hudson Nilsen, Grayson Klammes, McKenzie Ashley, Aubrey Larsen. Middle Grade students (4th-6th graders) who were recognized were Isle Griggs, Sean McManus, Weston Shaw, Emma Grant, Scout Anderson, Ethan Ghidinelli, Kennedy Cook, Dylan Jones, Jimena Valverde, Eli Albee, Zen Giacomini, Keeley Ryles-Baker, Andrea Velasco, Layne Avelar, Faye Weiss, Madison Hagemann, Ryker Renner.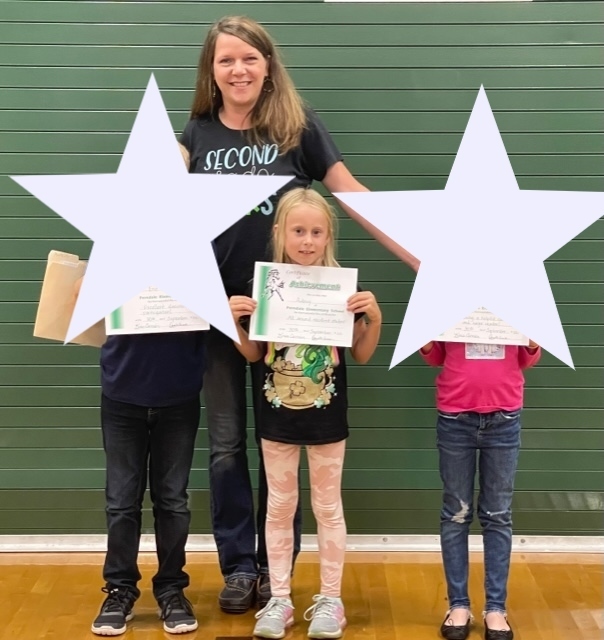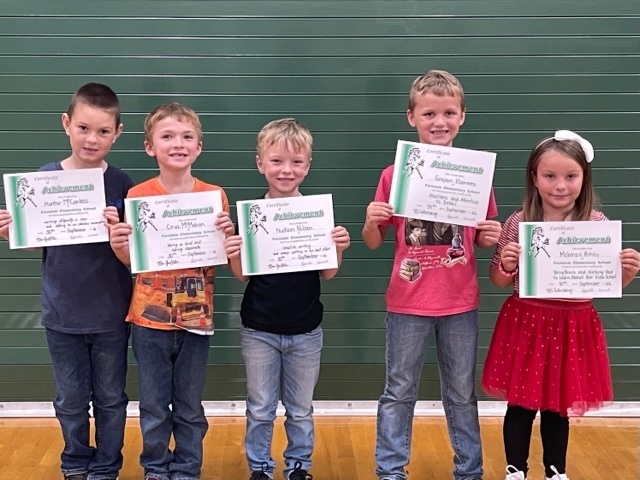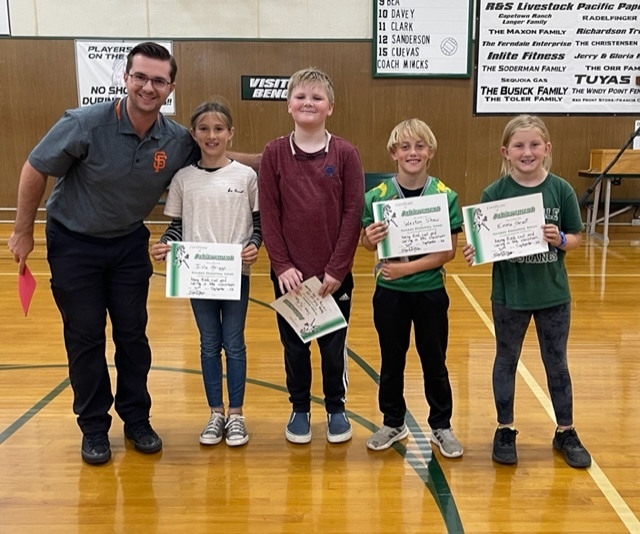 On Friday, September 30th, Ferndale students, grandparents, and special guests attended our annual Grandparents tea. The Grandparents tea has been a tradition for 30 years. The Grandparents tea is a wonderful opportunity for students to learn about how things have changed for students as times has passed. For many third graders, this is one of their favorite memory's from the school year. Special Thanks to Theresa Drakos for beginning the tradition of celebrating grandparents many years ago! Thank you to David Griffith and his group of fellow Veteran's for allowing us to use the Ferndale Veteran's Hall. Thank you to all the wonderful substitute grandparents. Thank you to the parents for the delicious treats, setting up the hall, and for the beautiful photos. Thank you Mrs. Rodriguez and Mrs. Maxon for all of your hard work.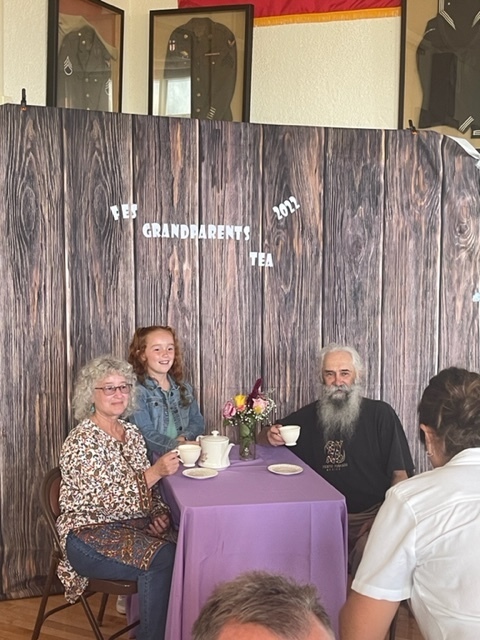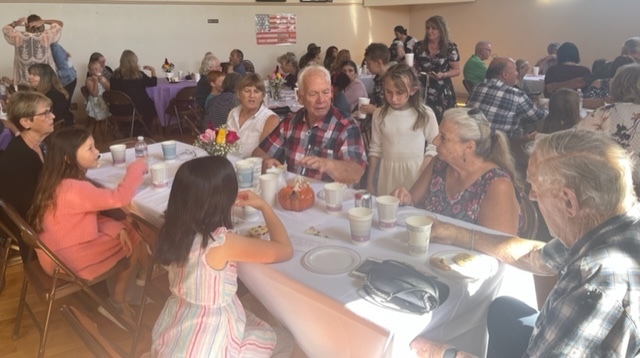 Thank you Ms. Sydney for using your artistic gifts to show our janitorial team how much we appreciate them. You brightened up our hallway and you brightened up their day. @restif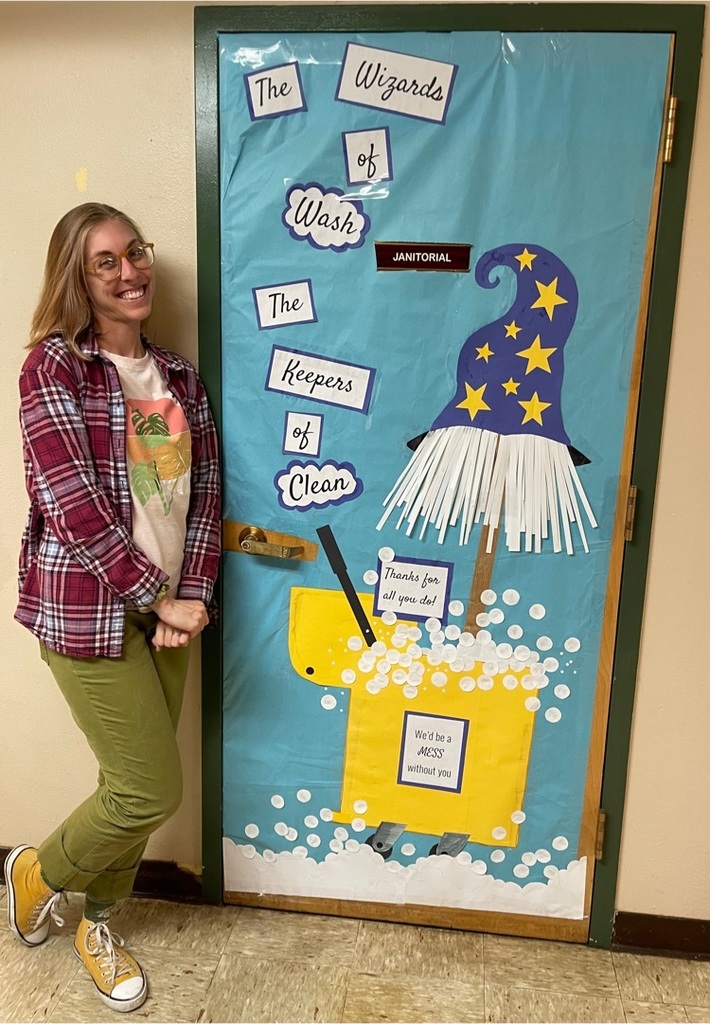 Students in 4th-8th grade if you're interested in joining our new Student Council please attend an informational meeting on Wednesday, September 28th at 7:45 a.m. in Mrs. Noga's Science room. If you ride the bus come as soon as you arrive at school. We are so excited to have our Student Council up and running once again.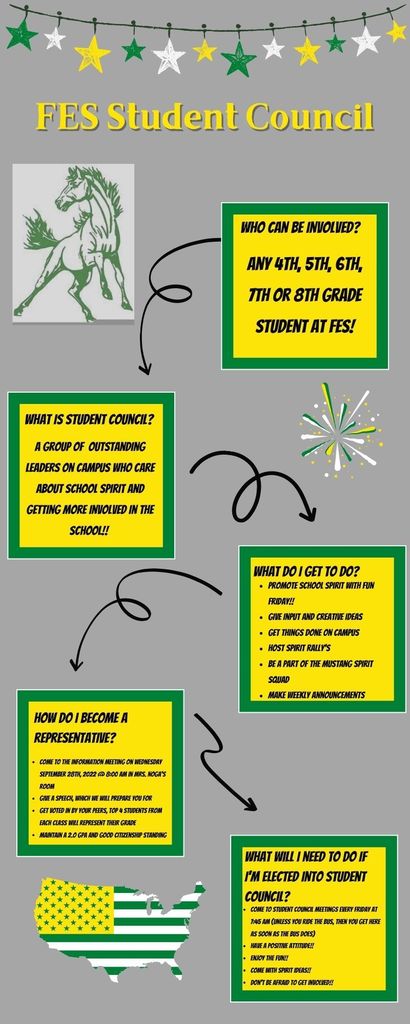 Students in Mr. Duggan's 4th grade class prepare for their field trip to Eureka. They will be riding the Madaket through Humboldt Bay and this morning they activated their prior knowledge with a quick lesson on Humboldt Bay's Maritime history.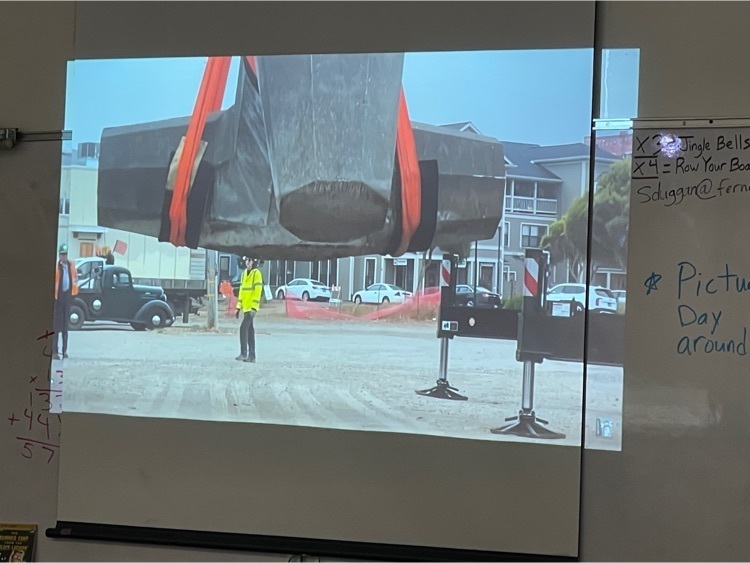 Tomorrow there is a change for school lunch, we'll be having Ham and Cheese sub sandwiches. On Friday, we'll be having Beefy Chunk Burrito. Thank you for your understanding. Mrs. Carmesin
Quick reminder that today is  Early release-Wednesday, and ALL students TK-8th Grade will be released from the front of the school at 2:15. TK-3 will be dismissing at 2:05 p.m to alleviate the burden of all 351 students being dismissed all at once today. We appreciate your patience and we thank you for driving slowly as we keep your children safe.  Recordatorio rápido de que hoy es miércoles de salida temprana, y TODOS los estudiantes de TK-8vo grado saldrán del frente de la escuela a las 2:15. TK-3 saldrá a las 2:05 p. m. para aliviar la carga de los 351 estudiantes que salen todos a la vez hoy. Agradecemos su paciencia y le agradecemos por conducir despacio mientras mantenemos seguros a sus hijos.
Students practice crosswalk safety and school bus evacuation.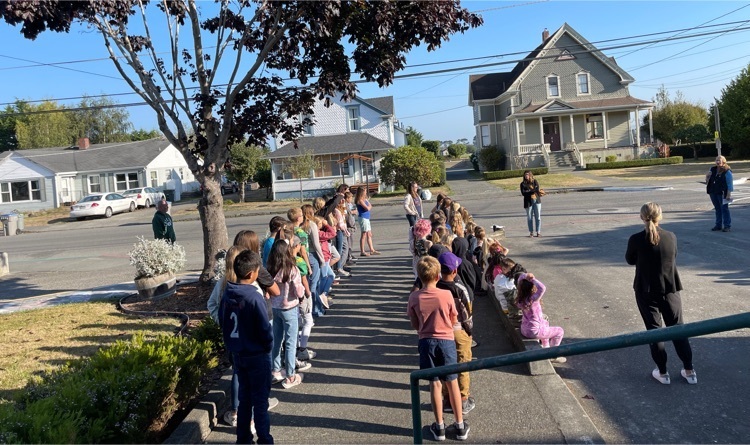 Starting Monday, September 12th, all Kindergarten to 3rd grade students will be dismissed in the front of the school on Shaw Avenue. You will no longer be able to pick your child up in the Ocean Avenue lot (the back of the school). This procedure was used for years before the pandemic, and creates a safer dismissal for your child. We understand that many parents have never experienced this dismissal, so we are listing our safety procedures and expectations below. Please FULLY park your car and meet your child in front of the gym. They will be seated with their teachers. When your child sees you, they will tell their teacher and then be released to you. The lawn area is for students who ride the bus. Please only use the sidewalk areas to wait for your child. Parents and students are to use the crosswalk closest to the gym. After you pick up your child, please do not loiter in front of the gym so all students can see their parents as they will be sitting. Please keep your child by your side after you have picked them up. In order to keep all children safe, they should not be playing in the dismissal are. For example: Do not let your child climb the trees or hang on the hand rail on the stairs of the gym. We appreciate your flexibility and understanding as we transition back to this dismissal location. Please contact the office with any questions.
Kindergarten through 6th grade, Back to School Night this Thursday!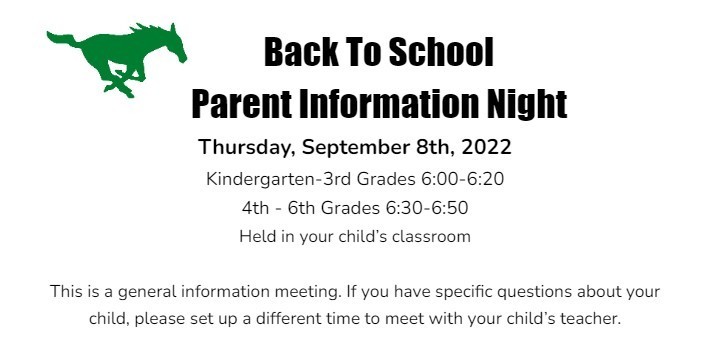 Reminder No School, Monday, September 5, 2022 in observance of Labor Day.

Congratulation to Tina Toste who retires this week after almost 33 years of service to our schools. Tina spent many years as a classroom aide for Ferndale Elementary, went on to work in the office at Ferndale High School and has been the District Data Technician for the past several years. Thank you Tina for all your years of service and for staying to get us off to a great start for the 2022-2023 school year. Happy Birthday and Happy retirement.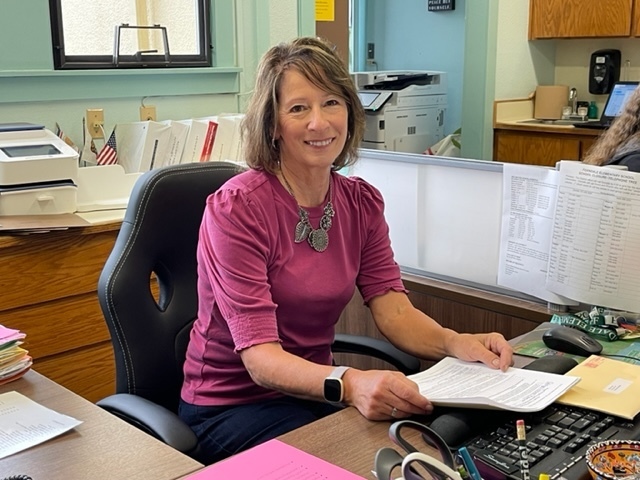 Thank you to Stacia Boyd and Juliette Davie for helping Mrs. McCulloch get the new Chromebooks ready for the 2022-2023 school year. FES recently received 144 new Chromebooks to replace end of life models.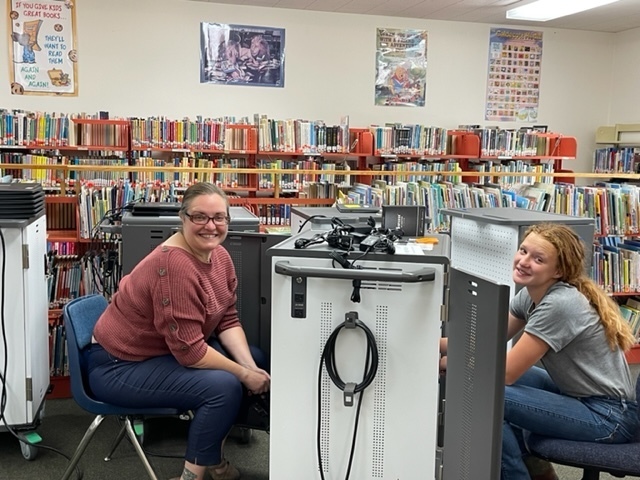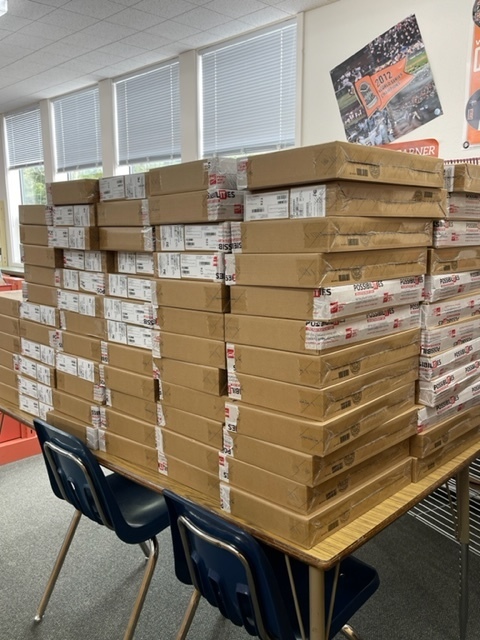 Please join us this tomorrow for clean up day.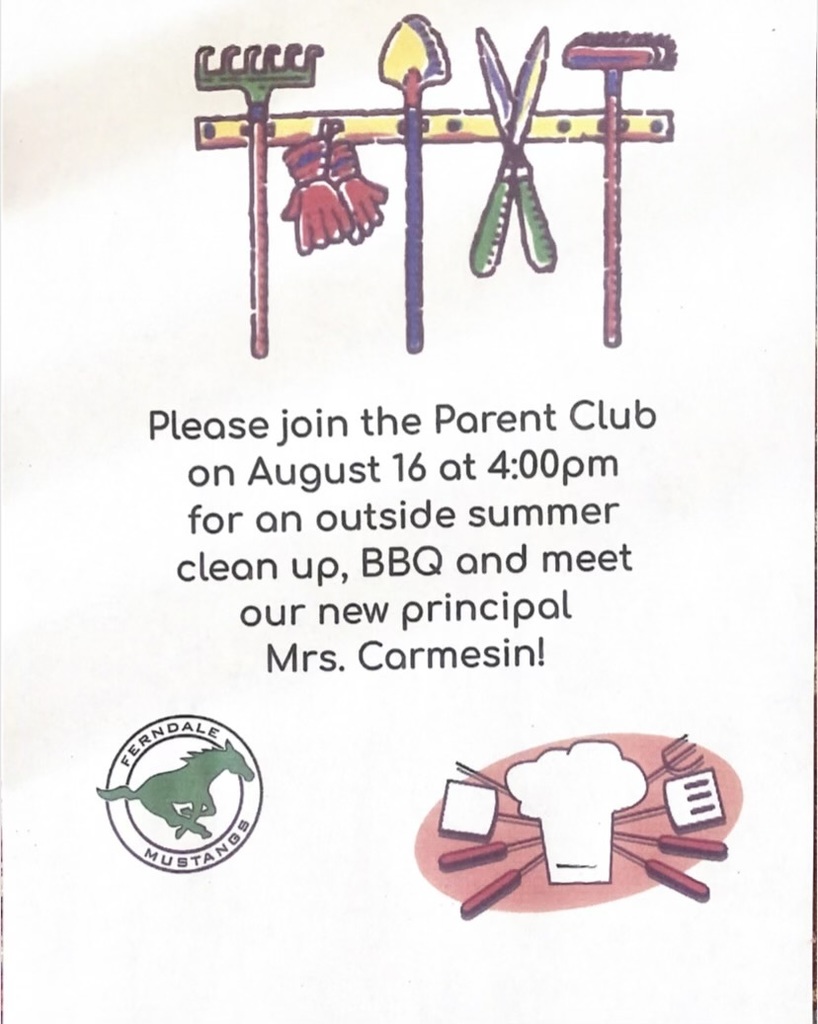 That you to Jerry Hansen (School Board Member) and his wife Gloria for providing lunch for the staff at both the Elementary and High School at the end of our school year. This is something the Hansen's have done for many years, and we are very appreciative.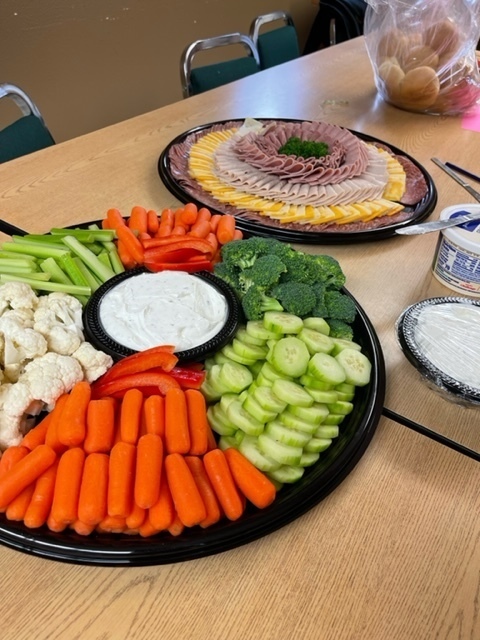 Clean up day 2022. Thanks to all who donated/helped spruce up the school.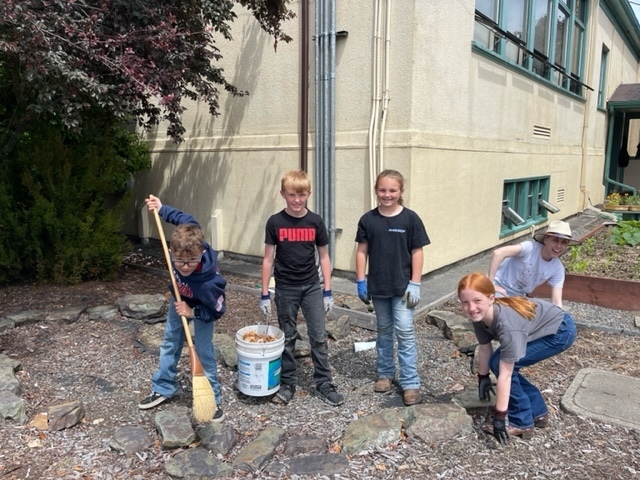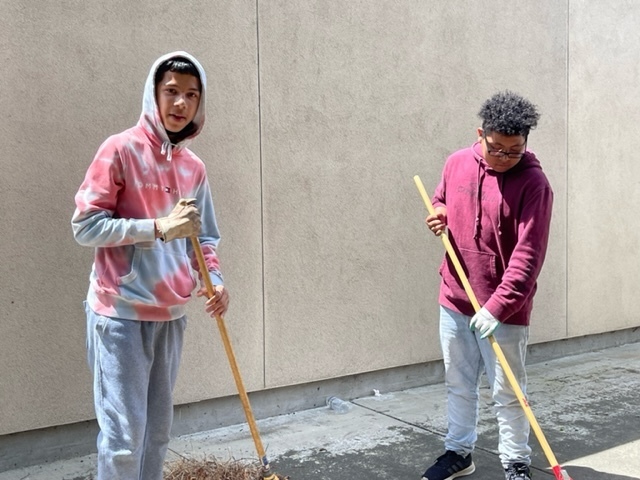 First annual tie-dye day with the 1st-3rd graders. Mrs Maxon is so excited to start a fun community building tradition.